AFFN Partner Annual Meetings
Defense Credit Union Council (DCUC)
2021 58TH Annual DCUC Conference
August 10-13, 2021
Ritz-Carlton Naples, Florida
Please join us for the 2021 annual conference as we gather in the great city of Naples. Not only will our conference be filled with educational highlights and opportunities to network with your colleagues in the defense credit union industry, we also continue to make changes to enhance your conference experience.
For more information, please visit: www.dcuc.org
Questions? Contact DCUC at admin@dcuc.org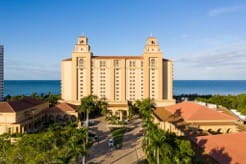 Association of Military Banks of America (AMBA)
2020 AMBA Fall Workshop
August 27th - September 2nd, 2020
Mandarin Oriental, Washington DC
For over 60 years, AMBA has been the exclusive military banking trade association servicing the banking community and our nation's armed forces. The annual workshop program has speakers ranging from government and regulatory officials to military and veteran non-profit organizations. It is a busy two days and more than 18 hours of information, discussions and networking.
For more information, please visit: www.ambahq.org